Today was fun! I got out to see a home that I was personally interested in, and I took you along for the ride!
Five bedrooms, almost 2900sf, big yard, great floor plan…it definitely was inspiring. It all started because we've been considering doing a big interior renovation project on our little house. I absolutely love our house — especially since we recently did all the landscaping and built a courtyard. And I love the neighborhood.
But after getting bids and seeing what it would cost to do what we want, the question naturally comes up… 'what if we just bought a new house and either sold or rented this one?' I'm finding that a LOT of my clients and friends are in a similar position. Many of us are reaching a stage where the little kids are not so little anymore and the 3 bedroom house is feeling painfully small.
So what now??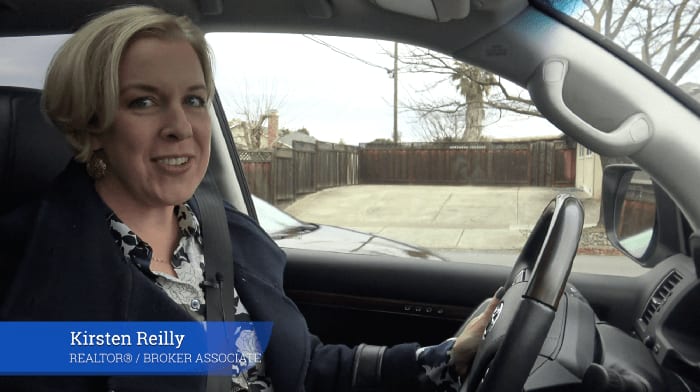 Selling a house and buying another — it can be complicated, and quite frankly a pain in the neck when you are a busy household with full-time jobs, pets, and kids. Do you sell first and then buy? Locate the new property first and then put the house on the market? Find a rental while you house hunt? OMG. This is what my clients have to deal with… I'm putting myself in their shoes and I'm realizing one… very… clear… thing:
There is NO perfect way to do this. However, there will be the best possible way for YOU based on your priorities, timing, budget, and risk tolerance. Let me break it down for you.
Sell first then buy
Pros: This is a financially conservative way to go. You'll know exactly how much money you have to work with on the next purchase. No guessing on what your home will sell for. The money will be in the bank and you can make a strong offer with a large down payment. And… the best part… you only move once! Easier for sure.
Cons: The clock will start ticking once you sell your place, and you will have to find a new home quickly. This can be stressful because you want to find the RIGHT home but time will be of the essence. You will have probably negotiated a "rent back" with the buyer of your home — meaning they are allowing you to stay there for a month or two as a renter. You'll definitely have to be decisive about the next house and you may feel like you are settling for something less than ideal because of the deadline.
Rent short-term housing, then sell, then buy
Pros: Similar to "sell first then buy" but without the pressure. You move into a rental before you put your house on the market, allowing you to stage the property and get it looking amazing. This method is also a blessing if you have little kids and pets because coordinating the circus before each showing is a PAIN. Once your home sells, the money is in the bank and you can go make strong offers and take your time choosing the right home. Important to note: If prices are going up, you will have to hustle, or you'll risk getting priced out of the market while you're renting.
Cons: The biggest drawback is the inconvenience of the double move. Never fun. Plus, most rentals are a bit "meh," but remember — it's short term. Don't fully unpack… you are "glamping" until you can move into your new place.
Buy first, then sell
Pros: If you can afford to buy and close escrow on your next home before you sell your current one, then you are one of the LUCKY ones! Pat yourself on the back and enjoy the process. You get to go shopping for the perfect place (no settling), move in, then sell your current place vacant and staged and looking its absolute best and no worries about inconvenient showing appointments because you won't be there.
Cons: You will not be using the equity from your current house so you will be buying under your budget… naturally, you'll see the more expensive homes that are just out of reach and think to yourself, "If I only sold the other house first, I could afford this one!" Also…. And this is a big one for me… you are literally GUESSING what your current home will sell for and making significant financial decisions based on speculation.
People typically overestimate their home's value. It's normal. We love our homes… but will other people be willing to pay what we think it's worth?
My advice: If you think there is a chance your house is worth a million dollars, assume you will only get $950k. Then you are limiting the chance of an "oh crap" moment when you start to realize you overspent on the new home.
Buy first using equity from your current house, then sell
Pros: This VERY compelling option is called a "bridge loan" my friends, and for many, it's a total blessing. Here is how it works: you go shopping, find the house you want and then get a bridge loan that pulls equity from your current place and uses it as part or all of the down payment for the next home. At the same time, you also get a normal 30 yr fixed (or similar) loan for the rest of the purchase. So the benefit is that you can afford more, you can shop without pressure, and then you can sell your other home for (hopefully) top dollar.
Cons: Yes, there are cons. This is a risky option because the bridge loan is short term (read: expensive). It's also hard to qualify for it. Honestly, you have to be what a lender would call "A paper" with excellent income and ratios to do this. Not everyone qualifies so don't beat yourself up if you get denied. Once you buy a home this way, you will be under the gun to sell your first home fast, and you can't change your mind if the market softens. It's do or die…. Not to be dramatic (but it is).
Some other popular solutions I have seen include:
Moving in with Mom and Dad or the in-laws while selling, then buy
Going on vacation while the house is on the market, then buy (this is a YES for me! LOL)
Buy a home contingent on selling your current property (I really like this option if you're in a balanced market and pretty confident about what price you'll get for your home)
As you can see there are many ways to get from A to B. Sometimes your plan will suddenly change if a dream home crosses your path sooner than you thought.
The bottom line is that every family is unique, every market is different, and so every solution will be a custom fit.
I hope you enjoyed this blog as much as I enjoyed writing it! Comment with questions, I'd love to hear from you!
— Kirsten Reilly